Viewer submits video of strange sky phenomenon
Video of possible UFOs over North Berwick and Broxburn sent to news programme.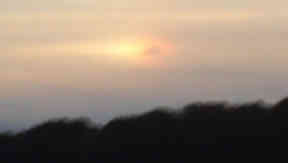 An STV viewer has submitted a piece of video that he says could show a UFO in the skies above Scotland.
Robbie Davidson, a student from Kirkcaldy, had been filming a strange cloud that appeared to have a rainbow in it, and says that what could be a disc-spaped object became visible ahead of the cloud.
He was travelling in van near North Berwick earlier this month when he made the sighting.
He told STV news: "I didn't notice it until I started filming, and you can see the saucer shape when you pause it and look closely.
"I've shown it to a few people who have dismissed it, but others say that they have seen similar things that evening in that area, like weird lights in the sky."
He added: "There are no mountains there and it is not the sun because it was right behind me when I was filming."
Speaking about the conditions pictured in the video, STV weather presenter Sean Batty said: "The sun apparently being reflected in the cloud is a phenomena called a sun dog, also called a parhelion, caused by ice crystals of a cirrostratus cloud refracting the light causing a small rainbow within the cloud.
 "What appears to be a dark object in the sky may be a patch of altocummulus cloud, which looks like it is a part of an approaching weather front, and would be at about 10,000 feet."
The video emerged as another STV viewer submitted a video showing apparently seven objects in the sky over Broxburn on Saturday June 26.
Taken at around 11pm, the video taken by Jean Wilkie seems to show Chinese sky lanterns, although a still picture taken at the same time by Ms Wilkie appears to show a more elongated object.
What do you think that the videos show? Let us know what you think using the comments box below.