Antony Gormley's Edinburgh statues floored by Scots weather
The Six Times artworks, designed to last 1000 years, have been submerged in the Water of Leith after toppling during heavy rain storms.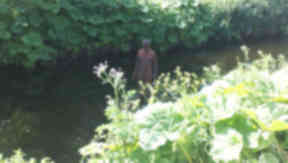 A series of high profile statues designed to grace Edinburgh's landscape for 1000 years have been beaten by the Scots weather after just four weeks.
Antony Gormley's six metal human sculptures, standing knee deep in the Water of Leith, were unveiled last month.
However, the rising water levels caused by recent rain has led to the "Six Times" figures toppling over and becoming submerged.
It is believed the statues may have been designed to tip over in extreme conditions. And officials preparing to wade into the water to rescue the artworks say they should not have been damaged by their recent drowning.
However, they admitted they had been inundated with calls from members of the public, scared the valuable works had been stolen.
A spokesperson for the National Galleries of Scotland, which commissioned the work, said: "It has been noted that the figures in the Water of Leith at Powderhall and Bonnington, which form part of the Antony Gormley sculpture 6 Times, are no longer visible.
"The figures have been designed to tip over under certain amounts of pressure or force, minimising any flood risk.
"In light of the recent adverse weather conditions it is highly likely that the figures have tipped over and are now submerged in the water.
"Once the water has receded a thorough investigation of each site will be undertaken and the figures will be restored."
Recent bad weather has seen some parts of Scotland hit by a whole month's rainfall in less than a day, while Edinburgh, which gets an average of 79mm during July, had 22mm in just four hours last Thursday.
However, officials say they are confident the figures will withstand the elements, with Mr Gormley insisting they could survive for 1000 years.
Speaking at the unveiling of the project in June, the Turner Prize winning artist said the the heavy metal statues had actually been designed to adapt to the elements, with the resulting rust and discolouration intended as part of the effect.
He added: "This was an extraordinary opportunity to use an extraordinary feature of Edinburgh, this hidden river that has been running for thousands and thousands of years.
"For me it was an obvious context to use to ask quite serious questions about where the human project fits into the scheme of things at large.
"I'm really excited because it's a very open experiment. Can these works in some sense add a dimension to people's experience of the city? Obviously I hope they will."
Mr Gormley also said he was not worried about how people would treat the statues, despite some of them already having been dressed up in bikinis and MacDonalds uniforms.
He said: "People have taken them on board.
"The figures may be silent, they may be rusty, but in terms of how people have looked on these new neighbours it's been very positive."
In Detail