Edinburgh residents demand action over tram pollution concerns
City officials will be told that ongoing road works could risk public health and put the city in line for massive EU environment fines.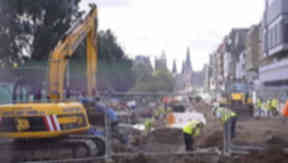 A group of Edinburgh residents will tell the councillors behind the city's tram scheme that they are risking the city's air quality and economy, as well as the health levels of locals.
A group of people who live in the city's World Heritage area have won the right to present their fears about the controversial scheme to officials.
They will make a presentation to councillors on Tuesday, highlighting their concerns about the "toxic traffic pollution threat" facing the capital. And they will claim that councillors, distracted by the ongoing row over the completion of the troubled project, are ignoring evidence of a mounting pollution timebomb which could lead to multi-million pound EU fines.
The locals' historic neighbourhood has seen a massive increase in traffic flow during the long-running road works caused by preparations for the arrival of the trams. Meanwhile, they insist they have been kept in the dark about vital health issues while the council and contractors battle to keep the project's finances on track.
Spokesman for the group, Ashley Lloyd, said his research showed Great Stuart Street and its surrounding area face problems that could spread across the city.
He said: "We feel the council simply have not had sufficient information to properly consider vibration and worst of all, traffic pollutants.
"Today is all about giving them the chance to see the Council's own traffic and environment information which, put together, shows clearly that residents across Edinburgh face massive increases in exposure to traffic pollutants, all of which are known to damage health."
The residents group says it is not only those living on affected roads being put at risk. They claim a number of city streets which house schools are experiencing far higher traffic levels and a resulting surge in pollution.
And they now fear the city could face massive EU fines if safe pollution levels are breached.
Mr Lloyd added: "The EU certainly takes these traffic pollutants seriously and has powers to fine countries consistently breaking the acceptable level. In Great Stuart  Street, to give just one example, the levels of nitrogen dioxide monitored by the Council in December 2009 ranked it as the second most polluted street in Edinburgh, with over twice the EU statutory limit for an annual average.
"This compares with ten years ago, when it was one of the least polluted streets measured by the council."
"We were the first part of Edinburgh to experience traffic diverted into residential streets from main roads along the tram route.
"This rise is set to happen now over more streets across the Capital, many with schools on them where, like Great Stuart Street, the traffic was previously much lower."
Allan Alstead, another concerned resident said: "We are not against a tram system as such, but it cannot be right that the system is being implemented in such a way that pollution is being increased."
The group has also cited research which shows the chemical, which is heavier than air, tends to settle into cellars, basements, low level properties and narrow streets.
Mr Alstead added: "Edinburgh has a lot of these properties, where families with children are being constantly exposed to it, and at night time levels can be similar to those recorded during day time."
It is believed that the gas was previously dispersed effectively because high traffic routes in the city, like Princes Street, are wide and spacious. However, during the tram works, much of the city's traffic has been diverted onto narrower streets, lined with high tenements.
Background