Firefighters tackle Arthur's Seat blaze
A 400 metre square area of brush was on fire on the Crags.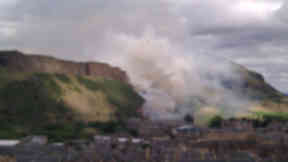 Thirty firefighters have tackled a fire which broke out at Arthur's Seat in Edinburgh.
Seven fire service vehicles from Lothian and Borders Fire and Rescue were called to the historic Edinburgh beauty spot to help put out the flames in gorse bushes.
The emergency service personnel had to travel on foot with their equipment in backpacks as the steep crags have stopped them taking their vehicles reaching the source of the fire.
The fire is believed to have begun around 3.10pm on Tuesday and was brought under control later in the evening.
Four pump appliances and three special control vehicles were at the scene where the flames have spread across a 400 metre area of grassland.
The cause of the blaze is not yet known.
Do you have video or pictures of the fire? Email us at STV News or call the newsdesk on 0141 3003768.