New look airport opens as drop-off charge row rages on
Edinburgh airports £40m departure lounge and security hub was officially unveiled by Finance Secretary John Swinney on Wednesday.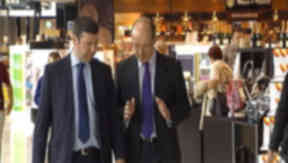 Edinburgh Airport's new departure lounge was officially unveiled on Wednesday, as the row over the introduction of a drop-off charge for motorists raged on.
Airport chiefs spent £40m on the overhaul, creating new shopping and eating facilities as well as a larger security hall.
The biggest project in the airport's 33 year history means the facility can now cope with an increase in passenger numbers to 13 million, allowing more people to pass through security and to the airport's gates more quickly.
Opening the new-look airport on Wednesday, Finance Secretary John Swinney said the expansion was great news. He added: "This has the potential to contribute significantly to the economies of Scotland and the East of Scotland.
"It's already created 150 jobs, its created apprenticeship jobs in construction, and quite clearly, with the increased capacity for visitors coming in and out of the airport, it's got the capacity to have a very significant economic contribution."
However, Mr Swinney refused to be drawn into the ongoing row over plans to introduce a so-called kiss and fly tax, insisting: "The drop-off fees issue is a matter for BAA to take forward and we've made our position clear."
Bosses at the Airport plan to introduce a £1 levy for motorists wanting to take holidaymakers to the terminal building. However, the move has sparked anger from passengers and has attracted criticism from across the political spectrum.
An online petition set up by Tory Lothians MSP Gavin Brown has attracted 3270 signatures so far, while campaigners say hundreds more have signed at street hustings in the city.
Speaking on Wednesday, the airport's outgoing Managing Director Gordon Dewar insisted the move was necessary. He told STV News: "We never thought it was going to be popular but it's another one of those difficult decisions you've got to make to keep that good trajectory going. We need to raise money to pay for facilities like this, with £41m the cost for this single project.
"We believe that the principle of those who use facilities paying for them is the right one. We certainly believe the decision to keep this as a commercially attractive airport is the right one, because at the end of the day people come here to fly somewhere, they don't come here to look at the nice new facilities.
"So we believe this is the right thing to do. We understand it's never going to be popular, asking people to pay when they're not used to that. But if we want to keep the success of Edinburgh Airport going forward then it's absolutely the right thing to do."
All of Holyrood's opposition parties have blasted the move, including the Green Party, who knocked down suggestions it would cut congestion and improve the airport's environmental record.
Gavin Brown MSP said he had already written to the airport's new Managing Director, Kevin Brown, asking for a meeting when he takes over early next month. And campaigners hope he will mark his start in the job by scrapping the proposal.
However, on Wednesday, Mr Brown remained tight-lipped about the plans, saying he planned to settle down and get to know the airport and its staff before making any big decisions about future projects.
In detail