The world's best photographs go on display in Edinburgh
The Scottish Parliament is hosting the photo-journalism exhibition - the first in the UK.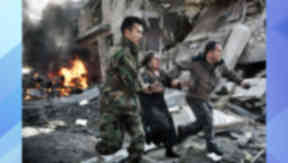 The world's premier photojournalism exhibition has today gone on display at the Scottish Parliament – the first UK venue to host this year's collection.
The World Press Photo (WPP) exhibition opened to the public on Monday in the Main Hall. It will remain at Holyrood until the end of August.
The collection features 170 stunning images taken by 62 winning photographers from 22 different countries. The photos powerfully document people, places and situations from around the world.
This is the fifth year the Scottish Parliament has staged the exhibition – which again has been chosen as the first UK venue to host the prestigious collection.
Presiding Officer Alex Fergusson MSP said: "The exhibition is always fascinating and we are, again, privileged to be hosting this collection at Holyrood. Last year almost 60,000 people visited the exhibition, which shows just how much of a draw the stunning images are.
"We hold the exhibition in conjunction with our increasingly popular Festival of Politics programme – both wonderful examples of how we are encouraging as many people as possible to engage with the Parliament."
This year's overall winning image shows women in Tehran, Iran, shouting on a rooftop in protest at the 2009 presidential election results by Italian photographer Pietro Masturzo.
Commenting on the image, chair of the WPP jury Ayperi Karabuda Ecer said: "The photo shows the beginning of something, the beginning of a huge story. It touches you both visually and emotionally, my heart went out to it immediately."
Other images include US soldiers responding to Taliban fire outside their bunker in Afghanistan, Australian bushfires, Barack Obama's inauguration day, Tiger Woods flipping golf clubs, England cricketers at the Oval, Senegalese wrestlers and tango dancers in Argentina.
A programme of photography-themed events and discussions will be taking place as part of the Festival of Politics to coincide with the WPP exhibition.This includes debates on privacy and photography, photographic evidence for climate change and a talk by US documentary photographer Nina Berman on picturing conflicts.
IN DETAIL