Controversial Caltongate project scrapped
Edinburgh City Council has admitted defeat and withdrawn its assets following a failure to find a new developer willing to take on the scheme.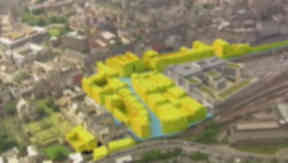 Edinburgh's controversial Caltongate project will be scrapped, after the city council withdrew its assets following months of legal wrangling.
Developers Mountgrange entered a sale agreement with the local authority in 2006, but the group's plans to create a large-scale housing and commercial development off the Royal Mile were met with anger and sparked an international inquiry into the city's world heritage status.
Moutgrange managed to achieve planning permission for the £300m scheme, but was unable to gain the further necessary consents before it went bust in 2009. Since then, the council has remained in contact with Lloyds Banking Group as it tried to find new interest from developers.
However, on Tuesday the banking giant, which was left £75m out of pocket following Mountgrange's collapse, admitted its negotiations with other firms were unlikely to reach a suitable agreement.
One potential new developer, Allied London, is believed to have been put off by the amount of red tape which would now have to be negotiated to buy up the land earmarked for the project.
The council is said to have admitted defeat after it looked increasingly unlikely a new developer could be found to take on the existing project. It is predicted it would take a number of years for a new firm to gain planning permission for a new project on the site, meaning it is now likely to remain derelict for the foreseeable future.
However, the council's Convener for Economic Development, Councillor Tom Buchanan, said officials had been left with little choice but to withdraw their assets.
He said: "The council has worked for some time with the bank's administrator in order to assist it in realising the potential of the site, but it is now apparent that the proposed development will not go ahead.
"As a result, we feel it is in the council's best interest to draw a line under this matter and exercise our right to formally terminate the sale agreement.
 "Nevertheless, our ambitions for the area remain undiminished. We continue to believe that Caltongate presents a wonderful opportunity as an investment prospect and that it will improve our historic Old Town. We will therefore continue to work with potential investors to promote the site to developers."
Mountgrange had planned to create 200 homes, as well as a five-star hotel and conference centre, a new culture quarter and a public square, on the site.
However, local pressure group Save Our Old Town blasted the plans, saying they were unsuitable for the area, would lead to the destruction of two historic, listed buildings on the border of the site and could lead to the area losing its Unesco world heritage status.