At least 300 jobs to be axed at Edinburgh City Council
Staff were being briefed on Wednesday about an urgent plan to cut £16m from the city's staffing bill.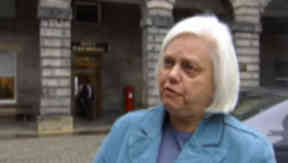 More than 300 jobs could be axed at Edinburgh City Council, as officials work to fill a £94m financial black hole.
The financial situation is being seen as so urgent, plans to cut £16m from the council's total spending this year will be presented to the next full council meeting in September, rather than waiting until budget time next February.
The cuts, which Council Leader Jenny Dawe has described as essential given the "harsh reality of the UK budget deficit", are expected to affect middle management and 'backroom' staff, with a city council spokesperson saying 300 jobs will be hit "in the first instance".
It is believed officials want to achieve as many of the cuts as possible before the end of the current financial year in March, however, the initial job reduction will continue past April. Further losses are also expected to be announced as the Council continues to make savings over the next two years, and a spokesman admitted the final number of job losses remained unclear.
The council said options were being presented to the unions on Wednesday, as staff were being briefed on the full details of the proposals.
However, union officials have blasted the council, insisting they were not informed of the plan ahead of this morning's announcement.
John Stevenson from Unison said: "We're very angry about this, for three reasons.
"Firstly, we met with the leader of the council yesterday and she made no mention of this. Secondly, they said they were briefing the trade unions and they've not, we've had to ask for a meeting today. And thirdly, because these cuts are unnecessary.
"We're not convinced by the council leader's crocodile tears, given that its her council and her coalition which is forcing through cuts that economists around the world are saying are not only unnecessary but will get the economy into an even bigger state than its in."
He added: "These jobs deliver public services. The council talks about back office but there's no such thing. If you take away the back office, someone at the front office has got to go and do the back office job. So it's an attack on public services that is not needed
"I think our members be very angry and very worried about it, because they've delivered reward upon reward for this council. They've delivered £90m worth of cuts in four years and the council's now shortlisted for council of the year. This is some way to thank them for all that work."
It is believed the staff reductions will initially be handled through early retirement, voluntary redundancy, cutting the number of temporary posts and leaving vacancies unfilled. However, a council statement said: "Compulsory redundancies cannot be ruled out."
Council Leader Cllr Jenny Dawe said: "The harsh reality of the UK budget deficit requires us to confront some very difficult decisions.
"These officer recommendations highlight the scale and severity of the challenge.
"We recognise just how concerning this is for staff and we will critically examine the proposals received from directors.
"We will do all we can to support staff and to protect the valued and vital services they deliver for the people of Edinburgh."
Jobs blows