Tory leader faces Prince Philip's sense of humour
Annabel Goldie asked if she was wearing knickers made from the tartan designed for the Papal visit.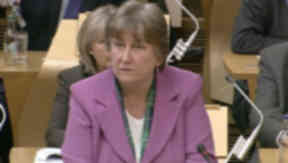 Scottish Tory leader Annabel Goldie found herself at the receiving end of Prince Philip's notorious sense of humour at a reception for the Pope at the Palace of Holyroodhouse in Edinburgh on Thursday.
The Queen - accompanied by her husband - was meeting dignitaries, including Scotland's political leaders. On reaching Labour's leader in the Scottish Parliament Iain Gray, Prince Philip noticed his tie which was in the St Ninian's Day tartan, a pattern that had been designed to mark the occasion of the Pope's visit.
Turning to Ms Goldie who was standing beside Mr Gray, the Prince asked : "Have you got a pair of knickers made out of this stuff?"
Amid hoots of laughter, she quickly replied: "I can't possibly comment, and even if I did I couldn't possibly exhibit them!"
The limited edition tartan was designed by Matthew Newsome, who travelled to Scotland for the event from North Carolina in the US where he works. He drew on Roman Catholic and Scottish history to create the blue, white, green, red and yellow design.
The Pope wore a tartan scarf in the design when he toured the streets of Edinburgh in the popemobile following the reception after he was presented with one by Cardinal Keith O'Brien.
Scotland's politicians have been seen wearing the tartan in the Scottish Parliament. They were given the option of choosing a tie or a scarf, but it is not thought that underwear was an option that was available.