Police carry out early-morning anti-drugs raids in Edinburgh
Six addresses in Leith targeted by police in operation against suspected crack cocaine dealers.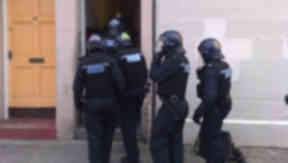 **Police in Edinburgh have carried out a series of early-morning raids against suspected crack cocaine dealers. **
Six addresses in the Leith area were targeted by Lothian and Borders Police accompanied by investigators from the UK Borders Agency.
The operation is centred on suspected so-called 'Yardie' gangs based in England and overseas.
The raids come at the end of a six-month surveillance and intelligence-gathering operation.
Lothian and Borders Police has seized 30 times more crack cocaine this year than it did two years ago. The capital has experienced an increase in the number of people seeking help over the highly addictive drug.
A number of men are expected to appear in court on Thursday as a result of this morning's raids.