First Minister 'confident' Scotland will be 100% renewable powered by 2025
Alex Salmond speaks ahead of international conference on low carbon developments and renewable energy projects in Edinburgh.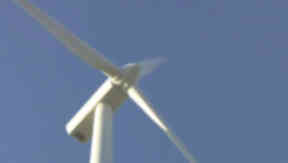 First Minister Alex Salmond said he was "confident" 100% of Scotland's electricity needs would come from renewable power by 2025.
Mr Salmond was speaking ahead of an international conference, taking place on Tuesday and Wednesday, which will debate low carbon developments and renewable energy projects.
Around 500 delegates are expected to attend the Scottish Low Carbon Investment conference, which takes place at Edinburgh International Conference Centre.
Last week, the target to generate electricity from renewable sources was lifted to a new high for Scotland.
The Scottish Government now wants 80% of electricity consumption to come from renewables, such as wind and wave power, by 2020 - up from the previous 50% target.
Mr Salmond said: "Scotland has unrivalled green energy resources and our new national target to generate 80% of electricity needs from renewables by 2020 will be exceeded by delivering current plans for wind, wave and tidal generation.
"But Scotland's ambitions go much further. Indeed, I'm confident that by 2025 we will produce at least 100% of our electricity needs from renewables alone, and together with other sources it will enable us to become a net exporter of clean, green energy."
The First Minister said a previous study had shown that by 2050 Scotland could produce up to seven times its domestic power needs through offshore renewable energy.
He added: "A key issue - and the key focus of the conference - is to mobilise finance to secure the estimated #200 billion of private investment needed to seize this once in a generation opportunity.
"Investment on this scale established today's North Sea oil and gas industry. Scotland's second wave of offshore energy offers unique investment opportunities to do so again and I'm confident that those will be grasped."
The conference, which the First Minister opens on Tuesday, is being supported by the Scottish Government and Scottish Enterprise.