Landmark cinema set for multi-arts facelift
Alliance of enthusiasts unveil their vision for much-loved Edinburgh venue.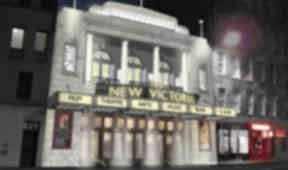 A former Edinburgh cinema that once hosted glittering premieres for James Bond films is set for a major revamp, if friends of the building have their way.
An alliance of venue managers, arts administrators and designers hopes to raise the money to convert the iconic landmark in the city's Southside area into a centre for the arts under its original name, The New Victoria.
They have unveiled an architect's impression of their proposed new venue, which would include space for film, theatre, arts and music, as well as a cafe and bar.
The cinema, which was shut down in 2003, is up for sale with a £2.93 million price tag after owners Duddingston House Properties were refused permission to turn it into a hotel.
New Victoria Creative director Vicki Simpson said: "This image is our vision of what The New Victoria could be.
"We want to restore this abandoned, neglected building in a manner which reflects its cultural and architectural significance.
"We will do a full restoration of its outstanding original features, many of which have been hidden from public view for decades."
Under its previous guise, the venue hosted red carpet premieres for films including Diamonds are Forever, Entrapment, Morvern Callar and Rob Roy.
The cinema, one of only two designed by WE Trent, opened in the 1930s.
Operations manager of The New Victoria, Sarah Colquhoun, said: "The potential for this venue is incredible.
"The New Victoria will be a space for new Scottish theatre and arts, a modern live music venue and a place to screen films."