Piglet cull at Edinburgh Zoo
Animal rights group group say destroying two young red river hogs is 'wrong'.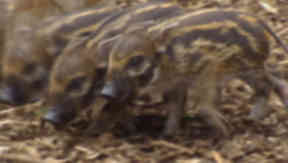 Two infant red river hogs have been culled at Edinburgh Zoo following a recommendation by a European advisory body.
Despite successfully breeding a pair last summer the organisation was advised by a worldwide breeding programme to kill little Sammi and Becca.
The move by Edinburgh Zoo on advice of the Endangered Species Programme (EEP) has brought about criticism and from The Scottish SCPA from animal rights organisation OneKind.
OneKind slammed the Zoo not only for the decision to cull but for their previous use of the pigs to raise publicity of the zoo.
Ross Minett, Campaigns Director of OneKind, felt the cull was unnecessary. He said: "We believe it is wrong for these healthy, harmless animals to be killed as part of a controlled breeding programme. Sadly, this sort of practice does take place in zoos; which will surprise many people who believe that zoos are all about keeping animals safe from harm.
"It is particularly ironic in this case as the zoo had previously used these animals as a means of gaining positive publicity. If zoos are genuinely concerned about the conservation and welfare of animals then they should endeavour to protect them in their natural habitat.
"If the zoo was unable to care for these animals, they should have been offered to a wildlife sanctuary or an alternative home found for them."
The zoo say the decision was based on a surplus of the species identified by the EEP.
A spokeswoman for the zoo said: "As a member of the European Association of Zoos and Aquaria, it is imperative that the Royal Zoological Society of Scotland complies with the recommendations that are given.
"It is our policy is to respect and be guided recommendations made by the EEP, who base their advice on maintaining and strengthening the genetic diversity of the species within breeding programmes."
Scottish SPCA Chief Superintendent Mike Flynn also thinks the zoo made a mistake.
He said, "The Society believes that a cull of any animal should only be considered as a course of last resort, after all other alternatives have been exhausted.
"As the red river hoglets were purposely bred in captivity then the issue of surplus should have been examined prior to commencing the breeding programme. We would expect any modern-day zoo to have thoroughly explored this issue and ensured that any surplus animals from a breeding programme could be rehomed to an alternative collection if required."
IN DETAIL