Gardeners on a mission to Afghanistan
Botanic Garden team heads to Kabul to train local botanists.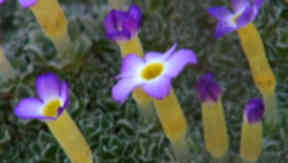 **Scientists from Edinburgh are to play a part in helping rebuild war-torn Afghanistan. **
Experts from the Royal Botanic Garden Edinburgh (RBGE) are travelling to Kabul to teach Afghan students about their country's plant life. They are also hoping to identify and protect endangered species.
The Botanic Garden is home to some rare plants from Afghanistan but years of war have had a huge impact on floral life in the country itself.
Now scientists from Edinburgh are launching a course at Kabul University which will train a new generation of botanists to identify what needs to be preserved.
Dr Matthew Hall, of the RGBE's Centre for Middle Eastern Plants, said: "If you think in a largely rural country where there's maybe four to five thousand plant species that underpin the natural world then conserving the environment is very important for people that live there.
"People that we talk to, our partners, are very concerned about what they see in their local areas and the deterioration of the environment, and they want to do something about it.
The RGBE's Tony Miller added: "What we hope to be doing is training a new generation of young biologists and young naturalists to actually get out into the field and see what the situation is - looking at protected area management, conserving individual species and just generally looking after the biodiversity of the country."
The classes will take place within an armoured compound. Around 20 students will visit them each day for a series of training sessions and seminars, as well as meetings with representatives from the United Nations environment programme, the Ministry of Agriculture, and university stakeholders.
They experts say there's already keen interest with more than fifty people applying for the twenty places on the course.
They will receive continued support over the internet once their mentors have returned to Edinburgh.
Dr Hall said: "We want it to be practical and simple, but also relevant to Afghanistan. Nobody really knows how many different plants there are in Afghanistan; obviously it's very difficult to do any proper fieldwork in the country.
"In the back of our minds is the idea of doing fieldwork, but it's by no means a done deal. It all depends on the current security situation and the logistics."