Legal action threatened over unfit fire engines
Two £450,000 appliances bought by Lothian and Borders Fire and Rescue have failed their safety tests.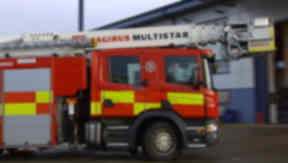 **Lothian and Borders Fire and Rescue Service is considering taking legal action after two state-of-the-art fire engines failed safety tests. **
The Combined Aerial Rescue Pumps (CARPs) cost £450,000 each. But the service says they could endanger the lives of the public and firefighters if they are allowed onto the roads, and that the appliances are not fit for purpose.
The CARP is a cross between a traditional fire engine and a turntable ladder, in theory able to do the jobs of two vehicles.
Tayside Fire and Rescue Service uses one regularly, and has ordered another. Strathclyde also has 12 and has used them sixty thousand times.
But the Lothian and Borders CARPs are designed differently from those in Tayside and Strathclyde. They have been plagued by teething problems and have been deemed unsafe by fire chiefs.
When carrying water, they are too heavy to driven legally, and their size means that they cannot negotiate roundabouts.
An external expert is being brought in to examine the CARPs, and legal action could result.
Other services have had problems with their CARPS - Central Region has put their two up for sale. The supplier, GB Fire, was unavailable for comment.