Edinburgh museums bring collections online
Thousands of artefacts from the city's collections can now be viewed over the internet.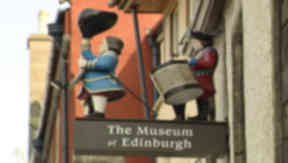 **Thousands of artefacts from Edinburgh's museums and galleries are being brought together for the first time as part of a new online service. **
The Edinburgh Museums website will enable the capital's priceless collection of artefacts to be viewed not just by visitors to its galleries but all around the world.
Archivists and cataloguers have spent months capturing and uploading visual records of all the collections owned by the council, to enable them to be seen on line by art and history lovers all over the world.
Those involved say the process has been a real trip down memory lane.
And curators say there's something for everyone: even those planning a royal wedding can enjoy this peek into the past.
Every year around 600,000 people visit the museums galleries and attractions in the city. The launch of the new website means their collections can now be seen by a potentially unlimited worldwide audience.
The collections can be viewed on the Edinburgh Museums website.