Claims UFO incident could be result of poison berries ... and Dr Who
Theory suggests Dechmont Law UFO sighting may have been sparked by memory of TV series after accidentally consuming wild berries.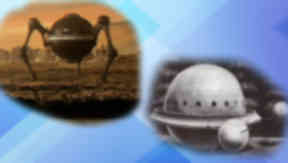 There are claims in a new edition of a UFO magazine that one of Scotland's most famous UFO sightings could have been the result of the man who reported the incident having eaten poisonous berries that resulted in him hallucinating.
This, combined with a memory of a recent edition of TV series Dr Who could have triggered the report.
In November 1979, forestry worker Bob Taylor parked his truck at Livingston's Dechmont Law and left to walk his dog.
He claimed that he then came across saw a large, spherical object, around 20 feet wide in a clearing.
Two smaller spheres, each about three feet in diameter, then dropped from the craft, rolled towards him and attached themselves to his trousers.
He was dragged towards the larger vehicle, and passed out.
The next thing Mr Taylor said he remembered was waking up with a pounding head, a sore throat and a bitter taste in his mouth. He said he calculated later that he had been unconscious for 20 minutes.
UFO Matrix magazine reports that the experience that Mr Taylor reported could have been the result of accidentally eating the berries of the deadly nightshade plant, also known as belladonna.
While it is one of the most poisonous plants that grows in the UK and can kill, symptoms of deadly nightshade poisoning include loss of balance, dry mouth, hallucinations and confusion.
The magazine adds that the description of a spherical object corresponds to that of a spacecraft that had been featured in an episode of Dr Who a few weeks earlier. The opening sequence of the episode City of Death featured a spherical ship with a rim around the centre. It did, however, differ from Mr Taylor's description by having three distinctive legs and did not feature propellor-type protrusions above the ring.
At the time the series was broadcast, ITV was on strike and the four episodes of City of Death were amongst the most widely seen episodes of Dr Who ever. Some fans of the long-running series also regard it as one of the best ever, featuring Tom Baker as the Doctor and having been mainly written by Douglas Adams, who also wrote The Hitchhikers Guide to the Galaxy.
At the time, police treated the incident involving Mr Tayor as an assault, and investigations at the scene revealed marks on the ground corresponding to Mr Taylor's description of events. A forensic investigation of his clothes also revealed that his trousers had been ripped in such a way that suggested implements had been used that had been attempting to lift Mr Taylor up by the legs.
Mr Taylor died in 2007 at the age of 88. He was regarded as a reliable witness, and never sought payment for his story.
There have been other theories about the cause of the sighting, with suggestions that it could have been ball lightning or an episode of epilepsy, although Mr Taylor never suffered from epilepsy before or after the incident.
While many will maintain that the evidence still suggests an extra-terrestrial explanation, the new theory adds another possible explanation for one of Scotland's strangest incidents.