Hospital's record-breaking 15 transplants in 15 days
Surgeons at Edinburgh Royal Infirmary carried out the operations on 14 patients.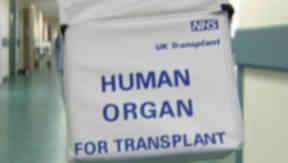 A record-breaking 15 transplants in 15 days were carried out by surgeons at a Scottish hospital, it was revealed.
Surgeons at Edinburgh Royal Infirmary (ERI) carried out ten liver transplants, three kidney transplants, and one combined pancreas and kidney transplant between October 28 and November 11 this year, said to be a record for the hospital.
All 14 recipients were said to be recovering well. The donations came from 15 donors.
An NHS Lothian spokeswoman said the organs were donated from hospitals around the UK, but said it was unclear why so many suitable organs became available in one 15-day spell.
ERI carried out 195 transplants last year - an average of around four a week - so Edinburgh surgeons had to contend with double the average workload.
John Forsythe, consultant transplant surgeon at ERI, and lead clinician for organ donation in Scotland, said it was a record period for the transplant team at the hospital.
He said: "This is an amazing level of activity for the Edinburgh Transplant Unit and it is very welcome news for the 14 patients who received a life-saving organ transplant.
"Thanks to the selfless generosity of organ donors, 14 individuals and all those connected to them, be it husbands, wives, sons, daughters, parents, colleagues, team-mates, will see at first hand the miracle of organ donation.
"Whilst this is great news we must remember that there are still around 650 Scots waiting for a transplant and three people die unnecessarily every day while waiting for an organ to become available - we can all help change this.
"The more people we have on the register, the better the chance of saving lives. I would urge everyone to join the register today. You can join online or even by text. It takes two minutes and you could save up to eight lives.
"Finally, I would like to thank the whole transplant team at the Royal Infirmary of Edinburgh who worked tirelessly over this 15-day period."
The transplants took place as NHS Lothian launched a campaign to urge people to join the donor register.
Scotland-wide there is also a national campaign to increase the number of people on the register.
Lothian already has one of the highest numbers of people on the register in Scotland so far, but NHS Lothian wants to increase the number from 42% to at least 50% of the population.
The health board has teamed up with staff, big businesses and organisations, as well as patients, to kick start the Sign Up To Save A Life campaign.