Downhill madness: Amazing footage of mystery man skiing down Arthur's Seat
Skier shocks passers-by as he plunges down famous Edinburgh landmark.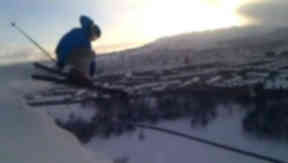 When you think of ski resorts in Scotland, the likes of CairnGorm, Glenshee and the Nevis Range usually come to mind.
But this winter, a decidedly off-piste run in the nation's capital could give them a run for their money - although it's not for the faint-hearted.
YouTube user y2james99 - real name James MacDougall - used his mobile phone to capture this startling footage of a lone skier as he hurtled down Arthur's Seat in Edinburgh.
In a scene reminiscent of a James Bond film, the 31-second clip shows the skier leaping from an overhang about halfway up the hill in Holyrood Park before racing down the slope in the direction of the Scottish Parliament.
The unidentified man then comes to a stop at the bottom of the 823ft hill and disappears from view.
With the steep slope giving way to Queen's Drive at the base of the hill, the daredevil was at risk of severe injury if anything had gone wrong.
A spokesperson for Historic Scotland said: "Although we understand that people want to get out and enjoy the snow, it is important that this is done safely."
Mr McDougall, 27, said that he shot the video at 2pm in the afternoon on Wednesday, December 1 after going up the hill to take photos of the Edinburgh landscape. The bar worker added that the man was accompanied by two other skiers, but after the run on the video he didn't see them again.
The video has had thousands of views since it was posted on YouTube, but the skier himself has yet to come forward.
UPDATE
The mystery skier has been revealed as Gareth Trayner, Head Coach of the British Children's Ski Team.
Mr Trayner told STV that he and two friends - World Cup ski racer Finlay Mickel and ex-Scottish team athlete Jimmy Gill - made three "amazing" runs down the slope.
He said: "Finlay had been skiing the previous day at Hillend, and he suggested we go there for some runs. I thought – why not Arthur's Seat?
"We originally tried the east side of the hill, but there's a massive clearing there with a lot of gorse bushes so we decided to shift to the run on the video – skiing through gorse isn't fun.
"We had three runs down this same slope, it was amazing, the best runs in Edinburgh we have ever had."
He added that he hopes the video brings a smile to people's faces.
"There's been so much talk about people being miserable in this weather, but there are a lot of people who are enjoying the snow – that's what we were doing!"
However, Mr Trayner warned that less experienced skiers shouldn't be tempted to copy him and his friends.
He said: "It's fine for us to do it; we've all skied a lot. But it's a rocky run - you wouldn't want someone thinking they could do it and hurting themselves."
The British Children's Ski Team is currently looking for sponsors.