Police close M8 as lorry jack-knives
Lanes in both directions are closed after the accident just after 8am this morning.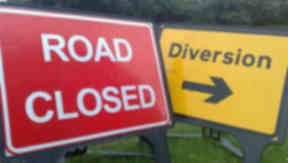 The M8 has shut in two seperate places as accidents and weather hit the transport network.
Traffic has been stopped in both directions at Harthill Services for a minimum of half an hour.
Police also took the decision to close the motoway at Claylands in West Lothian as a jack-knifed lorry causes tailbacks.
The accident happened at 8.10am on Monday and has caused delays on the main route between Glasgow and Edinburgh.
Lothian and Borders Police have now taken the decision to close the road in both directions as the weather worsens.
Meanwhile, an accident at the A90 at Echline has closed the Forth Road Bridge southbound as delays tailback across the structure and into Fife.
Police have warned against travelling in the wintery conditions as trains and buses across the country are cancelled.
The City of Edinburgh by-pass is also gridlocked as vehicles try to negotiate the weather.