Pedestrians almost hit by rockfall in Holyrood Park
Police had to cordon off part of the footpath after stones fell from the Crags.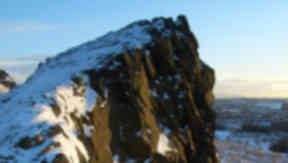 Pedestrians in Holyrood Park narrowly missed being hit by falling stones on Thursday.
A rockfall just at around 2pm on Salisbury Crags saw the rocks plunge onto the path below.
Several people called Lothian and Borders Police after hearing or seeing the incident.
Officers attended and cordoned off the footpath before contacting park rangers.
The stones fell onto a path known as Radical Road at the highest point of the road through the park.
The incident did not affect traffic through the park.
The rockfall is thought to have been caused by the weather.