Parrots rescued from burning house
Three birds suffering from smoke inhalation to be treated by the Scottish SPCA after the fire in Broxburn, West Lothian.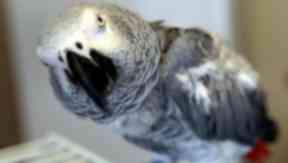 Three parrots have been rescued from a house fire in West Lothian suffering from smoke inhalation.
Firefighters were called to the semi-detached house in Henderson Crescent, Broxburn, just after 6pm on Wednesday.
The bedroom on the ground floor of the two-storey building was on fire and engines from Broxburn, Livingston and Bathgate were sent to battle the flames.
It took them five hours to extinguish the fire and it is not thought that any of the residents were home at the time.
Nobody was in the property but fire crews found three caged parrots. They had suffered smoke inhalation during the blaze and the Scottish SPCA had to be called to take them away for treatment.
An investigation is under way into the cause of the fire.