Time for equality: Woman soldier fires the One O'Clock Gun
Sergeant Sarah Smith fired the gun as part of International Women's Day.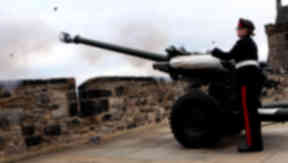 The One O'Clock Gun at Edinburgh Castle was fired by a female member of the armed forces on Tuesday to celebrate International Women's Day.
Sergeant Sarah Smith is a member of the Royal Artillery and has served in Afghanistan. The 26-year-old was selected to fire the gun to highlight the role woman play in the army.
She was on tour in Afghanistan from April to September last year.
Sergeant Smith said: "For the first two months I served in one of the Main Operating Bases, in the Nahr-e Saraj district in Helmand Province, as Gun Number One (Detachment Commander), to provide fire support to soldiers on the ground.
"I then spent the middle part of the tour detached from the Artillery Battery and took my Detachment of soldiers to Patrol Base Wahid, to support the Estonian soldiers there with protective artillery fire. Fortunately this was not required.
"The last two months were spent in a patrol base as a Gun Number One (Detachment Commander), again providing artillery fire support if required. In the final part of my tour, I teamed up with a female Captain.
"We deployed out on the ground from a patrol base as female searchers for the Gurkha Battalion. The Gurkhas are awesome soldiers. I think they also appreciated the vital operational role only we could perform, because in any culture, only females should search females.
"I am now in the process of training for the heavy artillery as a Gun Number One (Detachment Commander). After that I am due to be posted to the Royal Military Academy Sandhurst where I will be an Instructor for recruits undergoing training to become officers."
IN DETAIL