Minister says he will do everything he can to save Blindcraft
Alex Neil told STV News that he is 'very keen' to save jobs at the factory.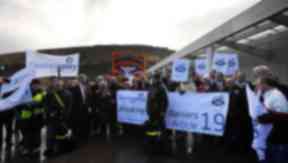 Campaigners for a Blindcraft have been given a promise by the Scottish Government that they will do everything they can to save the threatened factory.
Employees and supporters at the factory – which employs disabled workers – gathered outside Holyrood on Thursday to protest against the closure of the site.
Last month Edinburgh City Council decided they could no longer afford to subsidise Blindcraft by £1m per year and voted to close the factory during their budget meeting.
Now Alex Neil, communities minister, has vowed to do everything he can to keep the factory open.
Outside the parliament he told STV News: "What I have decided to do is to talk again to Edinburgh City Council to see if between us we can try and find a way forward because we are very keen, and I know the council is very keen, to try and save these jobs.
"The Scottish Government will work very closely with the council, we will explore every possible avenue to try and find a way forward. We are very committed to these people, they deserve our support."
The factory in Craigmillar was opened in 1793 by the Royal Blind Association and makes mattresses and beds. It runs at a loss and more than 60% of the workforce are disabled.