Here is the news from Edinburgh: STV unveils new presenting team
Juliet Dunlop is to be the new presenter for the new STV News at Six based in Edinburgh, alongside Caroline Henderson and Sean Batty.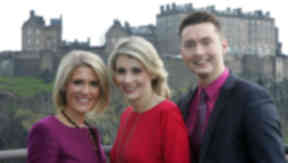 STV has unveiled the presenting line up for the forthcoming dedicated Edinburgh and East of Scotland news programme.
Juliet Dunlop**, **who will front the new programme that will be produced and presented from Edinburgh, joins the team at STV from the BBC in London, where she gained ten years experience as a news presenter and reporter.
During her time with the BBC, she was a presenter for BBC News Channel, BBC World News, BBC World News Today, BBC1 Daytime Summaries and BBC On Demand.
Originally from West Lothian, Juliet is also a former broadcast journalist for BBC News 24 and BBC Scotland.
Juliet said: "I'm thrilled to be returning to Scotland after ten years in London. I'm from West Lothian originally and my family still live in the area so it will be lovely to be closer to home. This is a very exciting time for STV as it branches out with an additional news programme for the east of Scotland and I can't wait to get started. I'm delighted to be fronting the news programme from Edinburgh and bringing viewers a new locally focused service."
Juliet, who officially starts work at STV on April 18, will be supported by sports presenter Caroline Henderson and Scotland's favourite weather presenter, Sean Batty.
Caroline, a former broadcast journalist from the BBC in Newcastle, joined the STV News team in October 2010. Having established herself as a reporter, Caroline will now front the sport for the Edinburgh news programme.
Sean has been with STV since August 2007 and has quickly grown into one of the station's most popular presenters. He will be bringing viewers in the east more localised weather reports.
STV's Head of News, Gordon Macmillan, said: "I'm delighted to welcome Juliet to the STV News team. STV is committed to delivering a more locally focused news service for Scotland and with such a strong presenting team now in place, I'm confident that our viewers in the east will benefit greatly from the new Edinburgh-based programme."
Commencing later this year, the new service will provide two separate editions of the STV News at Six for east and west central Scotland.  Viewers in the STV North area will continue to enjoy the current programme from Aberdeen, while the west audience will continue to receive the current STV News at Six presented by John MacKay in Glasgow.
Delivering an additional daily, 30-minute dedicated news programme at 6pm and a local bulletin at 10.30pm, the new Edinburgh service will offer a unique mix of Scotland's top stories combined with regional and local material, live reports and more localised sport and weather forecasts.
This new service will also provide additional support for the new STV Local sites in Edinburgh and the Lothians, enabling cross-platform newsgathering and promotion.