'A truly amazing experience': Zookeepers come face to face with the pandas who are moving to Edinburgh
Staff from Edinburgh Zoo travelled to China to meet Tian Tian and Yang Guang who are due to move to the visitor attraction later this year.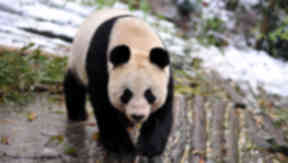 Staff from Edinburgh Zoo have travelled to China for an "amazing" meeting with the two giant pandas who will soon be living in the capital.
The team spent three days with local experts at Bifengxia Panda Base in Ya'an where the animals are now being cared for.
Breeding pair Tian Tian and Yang Guang - described as a gift from China - will be the first giant pandas to reside in the UK for 17 years.
Alison Maclean, the team leader who will care for the black and white creatures once they arrive in Edinburgh, was one of the group who went out to meet the animals.
She said: "It is a truly amazing experience to come face to face with these incredible animals and meeting Tian Tian and Yang Guang for the first time is a moment I will remember forever.
"It is a real honour to be part of this international breeding programme and I'm extremely excited to have the opportunity to work so closely with these precious bears. Our time at Bifengxia Panda Base was fascinating and I was itching to get stuck into everything.
"The training is very similar to how we work with the bears currently at Edinburgh Zoo and I find it essential in caring for such animals. It enables us to work closely and safely with the bears and means we can spot any physical changes quickly."
She said this will be particularly important with the female Tian Tian as keepers need to be able to identify any pregnancy as early as possible.
It is important for the pair, born in 2003, to become familiar with her voice and presence for a smooth transition to their new home.
Alison also observed specialist training sessions with the giant pandas, which will allow her to communicate with them while in her care and aid daily routines and health checks. In the coming months she will return to Bifengxia Panda Base for more one-to-one training with the local team of experts.
The visit to China was led by Iain Valentine, director of animals, conservation and education.
Mr Valentine said: "Given that Scotland is home to some of the world's leading expertise in animal nutrition, genetics, embryology, immunology and veterinary medicine, we are well placed to support a number of vital areas.
"Primarily, our research plan will be looking to provide further insight into the genetic make-up of giant pandas, including the diseases to which they are prone and their choice of food.
"There is still a long way to go in the world's conservation efforts and research such as this is vital if we are to ensure the survival of the giant panda."
The gift was announced on January 10 during Chinese vice premier Li Keqiang's official visit to the UK.
The agreement between the UK and Chinese Govermnents was signed at Lancaster House in London. They will be housed at Edinburgh Zoo under the custodianship of the RZSS. A date for their arrival has not yet been set.