Bony-headed toads to breed in Scotland
Colony of rare toads have arrived at Deep Sea World to start breeding and help save the species from climate change.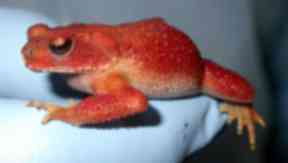 A colony of unusual amphibians has arrived in Scotland as part of an international effort to save the species.
The bony-headed toads have been sent to Deep Sea World in North Queensferry as part of a new captive breeding programme.
They were born at the Durrell Wildlife Conservation Trust on Jersey in the Channel Islands and it is hoped that by creating another breeding group in the UK they will be protect the species.
Deep Sea World aquarist, Paul Strachan, said: "Very little is known about the population status of this species in the wild but there is a concern that numbers are decreasing.
"Our colony will assist with the Durrell Wildlife Conservation Trust's work to study the toads' breeding strategies and, hopefully, not only help to protect this species but also other amphibians worldwide which are also under increasing threat."
The toads live around streams in China, Cambodia, Laos and Vietnam. Although the species is not currently endangered, they are being affected by climate change and disease.