Jack Draws Anything: The little boy with a big art
Jack Henderson, six, has become an internet sensation with his unique fundraising idea.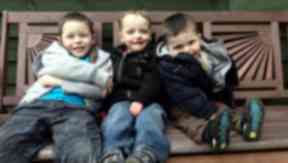 Rainbows, cats, crocodiles, even a rubber duck riding a bike and shooting lasers. None of these subjects are beyond the drawing skills of a six-year-old artist who is raising cash for charity.
Jack Henderson will draw his customers anything they want in return for a donation to the hospital where his little brother receives treatment.
He has been busy scribbling away after his fundraising website took off overnight.
The family initially set the target at £100, thinking they would get donations from family and friends. But in four days Jack and his artwork has raised over £1000 for the Sick Kids Hospital in Edinburgh.
His dad, Ed Henderson, said: "I thought we'd get money from grandparents, friends and family, maybe we will make about £50. In the first day we made over £100. It's great, it's boosting his confidence a wee bit and we're helping the Sick Kids."
Jack came up with the idea when he was at a craft fair with his parents. A family friend bought a drawing from him for 20p and he asked his parents if he could sell more drawings.
The family from Prestonpans in East Lothian sat down to talk about it and came up with the idea for Jack Draws Anything as his little brother Noah, one, is a regular visitor at the children's hospital.
Ed said: "Noah has been in and out of hospital since he was about three months old with chest problems, bronchitis and the like. Every time he gets a sniffle he has to go into hospital and he can he there for about a week.
"Jack always gets upset when his wee brother is in hospital, worrying that he is going to die. So this is his way of saying thank you to the Sick Kids for caring for Noah so well."
When asked why he wanted to raise money for the Sick Kids, Jack told STV: "Because some babies are dying and I just wanted to help them keep them alive and Noah nearly died two times but he is alive. It helped Toby when he cut his eye and me when I broke my finger."
Despite the unexpected workload, Jack is coping well.
Ed said: "He is probably doing a little bit more drawing than he normally does but he loves it anyway and we're trying to be very careful to make sure it doesn't turn into something he doesn't want to do.
"What he likes the most is some of the things people are asking for. You'll say to him that someone wants an otter wearing sunglasses. His eyes light up, he says 'oh cool' and off he goes."
IN DETAIL