Council plans to spend £275,000 to slow down motorists
Edinburgh City Council wants to introduce more than 100 speed bumps as part of a road safety initiative.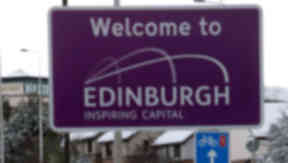 A council has been criticised over plans to spend more than a quarter of a million pounds to slow drivers down - including introducing more than 100 speed bumps.
Edinburgh City Council's £275,000 project to "improve road safety" will see the introduction of extensive sets of speed bumps, build-outs and other speed-reducing measures on dozens of streets if plans are approved.
The scheme designed to force drivers under 20mph at various intervals, comes following controversial plans to trial a £100,000, 20mph zone on the south side of the city, which sees the change in the speed limit enforced by police.
Roger Lawson, of the Association of British Drivers, described the decision to introduce more speed bumps a "waste of money".
He said: "This is a terrible idea. I'm very opposed to speed bumps. I have a medical condition which means it's incredibly painful going over these bumps, and I know many people that are elderly or suffer from such conditions that feel the same way.
"Generally measures such as these are suggested by people who don't have any other ideas on how to improve safety, so they just think 'Oh, speedbumps might do the trick'.
"However, it's likely to be a waste of money because if you look at the number of accidents before and after speed bumps are put in, there's not much of a difference. It just means drivers are more likely to get in an accident trying to avoid going over them."
The speed-bump scheme, for which the council advertised the contract this week, will provide physical speed-reduction measures at regular intervals.
There are already 20mph limits on parts of 50% of Edinburgh's streets, and the introduction of both schemes will make the majority of the city's roads 20mph, rather than 30mph.
Proposed plans will be examined by the council's transport committee in May, and if approved, work will be carried out over the summer.
Leaflets with feedback forms were sent to residents in the areas concerned on Friday.
Councillor Gordon Mackenzie, Edinburgh's transport leader, said: "Having developed, and agreed, a priority list of those areas that would benefit most from a 20mph zone, we are preparing to begin the next phase.
"Assuming agreement at May's transport committee, the works will be carried out over the summer."
Both speed bumps and build-outs in the road will be introduced at the Buckstone Estate in the Comiston area of the city due to the proximity to the local school, while a 20mph zone on a dozen streets in the Morningside Park area will also be introduced.
Around 15 streets in Merchiston, between Polwarth Terrace to Colinton Road, taking in Spylaw Road, will also see new traffic calming measures.
Petition
Local residents have petitioned councillors in recent months to bring in the measures to stop motorists from speeding on the wide boulevards in the area.
The fourth zone will be around McDonald Road at the top of Leith Walk, which features a large number of residential tenement blocks and is close to several schools.
Morningside councillor Paul Godzik said: "A number of local residents have approached me with regards to speed, especially on Merchiston Avenue and Spylaw Road, so I'm very pleased this scheme is on its way to being introduced."
The new speed-bump project follows the proposed introduction for Edinburgh to become the first Scottish city to introduce a 20mph zone on 25 miles of city roads, stretching from Blackford Hill in the south to Holyrood Park.
In the new zone, certain main routes will remain at 30 but they may also be cut in the future.
The trial is expected to start in March 2012 and could be extended across the city, however the decision to trial it was criticised with motoring groups saying drivers would spend more time concentrating on the speed limit than the road itself.