'Feeding kids meat is child abuse': Controversial billboard on display
The animal welfare charity PETA have put the ad up in Edinburgh to highlight the dangers of a meat diet.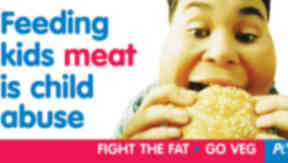 A controversial billboard warning parents against feeding their children meat has gone on display in Edinburgh.
The advert was erected at Crewe Toll and features a picture of an overweight child stuffing himself with a burger. It reads 'Feeding kids meat is child abuse. Fight the fat. Go veg'. Situated near Forthview Primary School, the poster measures a massive 20ft by 10ft.
Animal charity PETA said it is hoping to raise awareness of obesity in children, but it has already raised eyebrows in the capital.
Edinburgh City councillor Steve Cardownie said: "I have every sympathy for the plight of animals and recognise the impact of obesity in Edinburgh, but this is the wrong way to go about getting your point across.
"To imply that any parent who buys their child a McDonald's or gives them a hamburger for their tea is a child abuser is just plain wrong and this will turn off the very people they are trying to influence.
"Child abuse is a very serious matter and this trivialises it. Any parent seeing this will not rally to them, but rather will be rebuffed by these sentiments.
"It's offensive and I think it will backfire on them."
PETA claim that obesity is more likely to happen to meat-eaters than it is to vegetarians and vegans and the common meat-rich diet can cause angina and heat attacks in children.
Abi Izzard, PETA special projects coordinator, said: "The potential for damage from a meat-heavy diet is like a ticking time bomb in kids.
"In addition to causing immeasurable suffering to millions of animals, getting kids addicted to chicken, beef and other types of meat condemns an entire generation to a future of health problems."
Although this is the first time the poster has been put up in Scotland, it has already been displayed in Dorset and Coventry. A number of complaints were made to the Advertising Standards Authority but they cleared the advert in 2008.