Sneak preview of the Royal Commonwealth Pool
The pool has been closed since 2009 for refurbishment, including the installation of a 50m main pool and two 23m pools.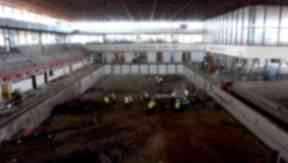 A group of swimmers were given a preview of Edinburgh's Royal Commonwealth Pool on Monday.
The A-listed building is under going a £37m refurbishment, including a new 50m pool and a new diving area.
It will host the diving events during the Commonwealth Games in 2014 and will be used as a training camp for the British Olympic swimming squad next summer.
Four Olympic hopefuls, Craig Hamilton, 19, Dan Wallace, 18, Craig McNally, 18, and Craig Benson, 16, were given a tour of the pool in the final stages of the its restoration.
As well as the full sized pool, two 23m pools have been created for diving and training. David Wardrop, the sports manager for Edinburgh City Council, described some of the features of the centre.
He said: "As part of the sustainability of the project we are putting some solar panels in the roof to help heat the water up. We are putting in a brand new diving area with state of the art diving platforms.
"All the pools will have a moveable floor so we can adjust the depth of the water so we can have a toddler's session in the morning and in the afternoon we could have synchronised swimming, for example. There is going to be a lot of flexibility.
"When it's finished we'll have fantastic facilities for Edinburgh. I think this is going to be not only one of the best swimming pools in Scotland but in the UK when it's finished."