Easter rabbits left hopping mad after zoo turns them away
A group of friends in fancy dress were barred from Edinburgh Zoo for fear they would scare the animals.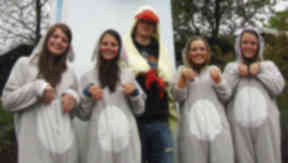 Four bunny rabbits and a spring chicken hoping to take part in Edinburgh Zoo's Easter celebrations were left with egg on their face when they were refused entry because they were in fancy dress.
Kirsty Nicholson and four of her friends were turned away by an employee at the zoo on Saturday morning who claimed that their costumes could cause "psychological damage" to the animals, who can get "scared of people dressed up".
"We were absolutely gutted when we were denied entry from the zoo," Kirsty said. "We had planned this trip as an Easter outing and a special treat for Laura, who is being treated for Hodgkins Lymphoma at Sick Kids and was only let out for the weekend."
"My mum bought us all these bunny onesies for a bit of a laugh so we thought it would be great fun to wear them to the zoo and get some pictures. We were just about to pay when we were denied entry.
"We think it was unfair. Children go to the zoo and get their faces painted as scary tigers: what is so scary about little bunnies?"
Edinburgh Zoo Public Relations manager Rachel Goddard said: "Laura and her friends weren't denied access to Edinburgh Zoo, simply asked to remove their costumes before going in.
"We certainly don't want to ruin anyone's Easter celebrations, however there is very real evidence that humans in costume characters cause distress to some of the zoo animals. This is particularly the case with our troop of Chimpanzees who get very anxious and disturbed.
"Our visitor services manager explained in full why the request was being made for animal welfare reasons, however Laura and her friend's choose not to continue their planned day out. When we have our own costumer characters onsite, which was the case over Easter weekend, we ensure they're only in central areas away from the animal enclosures - this cannot be policed with visitors."
The teenagers still enjoyed their weekend with Laura, who writes a blog about her illness, and went bowling in their bunny outfits instead.