University of Edinburgh unveils shortlist for Britain's oldest literary award
Three debut novelists and celebrated Scottish author Alasdair Gray have been nominated for James Tate Black awards.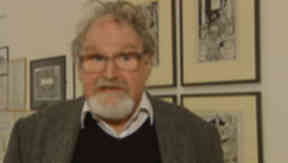 The University of Edinburgh has announced the shortlist for this year's James Tait Black Memorial Prizes for fiction and biography - the oldest literary awards in the UK.
The two prizes, each worth £10,000, are awarded by the university for books published during the previous year: one for the best work of fiction and the other for the best biography.
The manager of the awards, Dr James Loxley, head of English literature at the University of Edinburgh, said: "We have a very exciting line-up this year.
"The James Tait Black awards represent the very best in fiction and biographies and this year we have an excellent mix of respected writers and emerging talent."
First novels by American authors Julie Orringer and Tatjana Soli, and English university lecturer Michael Nath, were put forward for the James Tait Black Memorial Prize for fiction.
Acclaimed novelist David Mitchell was also nominated in the category for his latest book, The Thousand Autumns of Jacon De Zoet.
Nominees for the £10,000 biography prize include Scottish author Alasdair Gray for A Life in Pictures, an autobiography in both words and pictures.
Hilary Spurling's portrayal of Nobel Prize-winning author Pearl Buck is also listed, along with Greg Grandin for his work on American industrialist Henry Ford.
Wendy Moffat is the final nominee in the category for her revealing new biography of literary giant EM Forster, who won a James Tait Black Memorial prize himself in 1924.
The awards were founded in 1919 by Janet Coats, the widow of publisher James Tait Black, in memory of her husband.
Past winners include DH Lawrence, Graham Greene, Evelyn Waugh, Muriel Spark, Angela Carter, Cormac McCarthy, Martin Amis and Ian McEwan.
Last year, Man Booker prize winner AS Byatt won with her novel The Children's Book and John Carey picked up the biography prize for his book on William Golding.
The shortlist was announced this evening at Dover House in London. The winners will be announced at the Edinburgh International Book Festival in August.
James Tait Black Memorial Prize nominations in full:
The Thousand Autumns of Jacon De Zoet by David Mitchell
La Rochelle by Michael Nath
The Invisible Bridge by Julie Orringer
The Lotus Eaters by Tatjana Soli
Fordlandia: the Rise and Fall of Henry Ford's Forgotten Jungle City by Greg Grandin
A Life in Pictures by Alasdair Gray
EM Forster: a new life by Wendy Moffat
Burying the Bones: Pearl Buck in China by Hilary Spurling