'Wicked' man who indecently assaulted pregnant women jailed for eight years
'Despicable' man found guilty of 'sadistic' behaviour towards vulnerable women and children.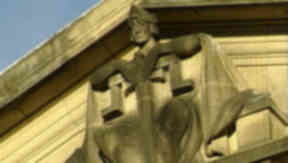 A man who indecently assaulted two pregnant women and abused two young boys has been jailed for eight years.
A judge told Darren Swain that he had been found guilty of a series of charges which demonstrated "violent, controlling and in some respects sadistic behaviour" towards vulnerable women.
Lord Doherty told 33-year-old Swain at the High Court in Edinburgh: "A significant custodial sentence is necessary to mark the gravity of the offences."
Swain attacked one 34-year-old victim at a house in Fife, where he forced her onto a bed, tied her down and indecently assaulted her in 2008.
The woman was also attacked by him at houses in Lochgelly and Glenrothes when she was punched, kicked and butted under the threat that Swain would slit her throat.
Swain, from Glenrothes but described as a prisoner in Perth, was also convicted of making offensive or menacing calls to the woman from jail.
He also assaulted a boy who was aged between seven and eight between August 2008 and April last year.
The victim was punched on the head and body, struck on the buttocks with a belt until he bled and hit with a metal pole.
Swain also indecently assaulted another pregnant woman in 1999 to 2000. He bound the 51-year-old and pushed, punched, kicked and slapped her.
Between May 1999 and June 2001, Swain also wilfully ill-treated a boy aged between six and eight, shutting him in a bedroom for long periods of time.
Swain had denied the assault and neglect charges but was found guilty of a total of nine offences by a jury.
Advocate depute Tim Niven-Smith told jurors that Swain was "a wicked, despicable, horrible, aggressive man".
Lord Doherty told jurors that he had no doubt that some of the evidence they had heard was "distressing" for them.
The jury heard, after returning its verdicts, that Swain had previously been jailed but had also been put on probation with a condition that he attend for anger management counselling.
Swain was also placed on the sex offenders' register following his conviction for the indecent assaults.
Detective Inspector Derek McEwan from Fife's Public Protection Unit said: "Darren Swain has today been convicted of some of the worst offending this unit has seen in recent times.
"He has preyed on the vulnerable and relied upon his own intimidation in a hope that that this offending will never be brought to the attention of the police.
"I must praise the victims of this case who not only had the courage to come forward to the police but, when required, they gave evidence to ensure that justice was served.
"There is no doubt that Swain obtained some kind of pleasure from his ability to intimidate and abuse persons without repercussion.
"This sustained abuse took place over a considerable period of time and clearly had a significant impact upon the women and children who were exposed to his abuse.
"I would like to thank all members of the public who may not have been required during his trial but assisted greatly in the initial police investigation."