Renewable energy could provide jobs for life
It is hoped that engineering skills developed by workers in Fife shipyards can be tranferred to the new sector.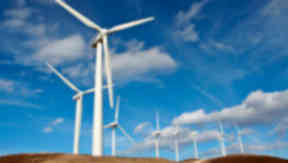 The renewable energy sector could provide the long-term unemployed in Fife with jobs for life.
It is hoped that the engineering skills developed in the area by the shipbuilding industry could be transferred to the new sector.
Students at Carnegie College in Dunfermline are learning the skills needed to get and keep jobs in the industry.
And Fife Council says that the legacy left by the shipbuilding and oil industries that have shut down over the years could make the Kingdom a hub for renewables.
Scotland has committed to generating 50% of its electricity through renewables by 2020 and as a result the industry is expected to grow.
Allan Wilson is studying at Carnegie College and believes he is gaining skills that will help him remain in employment.
He told STV News: "I have always felt that renewables are going to be part of the future as fossil fuels themselves are not always going to be there.
"They are in finite supply whereas your renewable energy, that's always going to be there – your wind, your tidal, it's never going to run out, it's always going to be around."
Companies in the region are taking on apprentices from the course and said that it could provide the students with a job for life.
Martin Adam from Burntisland Fabrications Ltd said: "There's an opportunity for a lot of these, kids they can see 20 years work ahead of them if they get in now and get the training and stick to it and perform exceptionally well the business will have the requirements for their skills."
Meanwhile, Fife Council hope that the industry will be able to offer jobs to those who have remained unemployed since the shipyards closed down.
Barbra Whiting from the local authority said: "We have a wealth of traditional skills, we certainly have a strong engineering base in Fife. We have a lot of the traditional skills that would be appropriate for meeting the needs of these future industries."
Carnegie College is working with industry bodies to make sure they are turning out students with the right skills.
Jim Brown from the college said: "We just need to work with industry to identify their demands and plan for their demands and we are really really trying to do that. We are working very closely with industry trade bodies, both Scottish Renewables and Renewables UK, so that we are aware what the industry demands are now and moving forward in to the future."