Warning issued following deaths of two divers
Two men died in separate incidents while diving for shellfish in the Forth Estuary.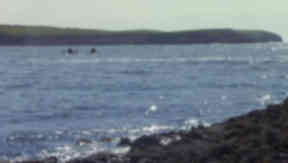 The Health and Safety Executive has issued a safety alert to divers after two men died in separate incidents whilst looking for shellfish.
James Irvine, 42, from Glenrothes, Fife, disappeared in Largo Bay in the Forth Estuary on March 24. His body was recovered the following day by an underwater search unit.
Earlier this month, on June 11, Graeme Mackie, 31, had been diving off the coast of Methil, also in the Forth Estuary, when he was pulled unconscious from the water.
Mr Mackie, from Tranent, East Lothian, was taken to shore by lifeboat and then flown to the Royal Infirmary of Edinburgh, where he later died.
HSE officials said both incidents are still under investigation and the facts surrounding the men's deaths have yet to be established.
However, the HSE has issued the alert to remind the industry of the essential aspects of safe diving operations.
Its guidance makes clear that the minimum team size normally required when diving for shellfish is three - a supervisor, a working diver and a stand-by diver.
It says that the stand-by diver should be in immediate readiness to provide any assistance to the diver in the water and additional people may be required to operate the boat and to help in an emergency.
HSE chief inspector of diving Chris Sherman said: "Diving for shellfish can be a dangerous activity and needs to be carried out by competent and appropriately-qualified divers.
"Suitable plans and procedures are key to the whole diving team conducting activities safely and reacting effectively in an emergency.
"Diving is a high-hazard activity, but if it is conducted properly, in accordance with the regulations and guidance, the risks can be managed.
"Simple measures taken to ensure that the diver in trouble can communicate to the dive supervisor, and that the diver is marked by a line and float, or by a line to an attendant on the dive boat, maximise the chance of a successful outcome to an emergency situation."