Alex Salmond confirms no more funding for troubled trams project
The First Minister told STV News that the government would not provide any further funding to the Edinburgh project.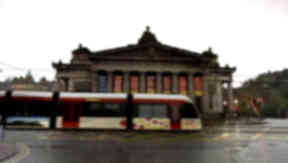 The government will not be providing any further funding to the controversial Edinburgh trams project, Alex Salmond has told STV News.
The First Minister said that "it wouldn't be fair" to contribute any more than the £500m they already have to the scheme as Scotland does not have "an unlimited chequebook".
It was revealed on Wednesday that the City of Edinburgh Council will have to find £200m more even if they choose to scrap the project.
An official report released on Thursday said that the local authority would be able to take the fund to £600m, but they would still be £100m short. One of the options they have outlined is to approach the Scottish Government for more money.
But Transport Scotland's position has always been that they will not be able to increase their contribution and the First Minister confirmed that to STV on Friday.
He said: "When the Scottish Parliament forced through the trams project against the advice of the SNP government we passed the motion saying the limit was £500m. We are not going beyond that limit - that was the money that was given to the council and Tie in Edinburgh to get on with the project, that was the agreement.
"We made it crystal clear four years ago that this project was doomed to disaster.
"We can't ask everybody else in Scotland to increase that now that just wouldn't be fair, it wouldn't be reasonable and it wouldn't be proper. We gave them the clearest advice that this project would run in to inevitable problems but we cannot bail it out now because the rest of the taxpayers in Scotland will say wait a minute, surely that's the responsibility of the Edinburgh council.
"We will certainly do everything we can in terms of talking to the council and see if there is any flexibility in how they run their finances that can help them."
IN DETAIL