Government to pump £20m into wave power generation
The UK Government believes wave power has the potential to meet up to 20% of demand by 2050.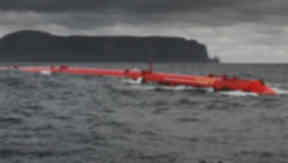 The UK Government is to invest up to £20m in wave power as it tries to boost the amount of energy generated by renewable sources.
Climate change minister Greg Barker, on a visit to Pelamis Wave Power in Leith, said marine power could be worth £15bn to the economy in 40 years' time.
Mr Barker is announcing a funding package of about £20m to help develop marine energy devices from their current prototype stage to industrial-scale sea-based constructions.
He said generating energy from the power of waves has the potential to meet 15% to 20% of the UK`s current electricity demand by 2050.
The funding will come from the Department of Energy and Climate Change's budget of more than £200m to fund low carbon technologies, announced in last year`s Government spending review.
Mr Barker said: "Marine power has huge potential in the UK not just in contributing to a greener electricity supply and cutting emissions, but in supporting thousands of jobs in a sector worth a potential £15bn to the economy to 2050.
"Britain can be a world leader as we have decades of expertise in offshore industries and the most advanced devices are already being developed here.
"Our geography gives us access to rich marine resources which act as a natural laboratory to test and run devices in realistic conditions, especially in Scotland and the south-west [of England], where innovative work is already being carried out.
"The money we`re announcing today will take marine power to the next stage of development in the UK and a step closer to being a real contender in the future energy market."