Ex-paratrooper jailed for growing cannabis at home
Steven McGinty claimed he produced £5000 worth of the Class B drug to treat post-traumatic stress disorder.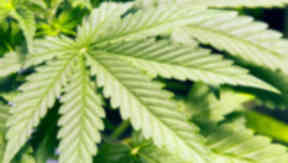 A former paratrooper has been jailed for eight months for growing £5000 worth of cannabis in his home.
Steven McGinty, from Livingston, claimed he had produced the drug for his own use because he was suffering from post-traumatic stress disorder.
But in court, his lawyer admitted that medical evidence indicated that cannabis use was likely to make the condition worse rather than better.
A search of his home on December 8 last year uncovered 41 cannabis plants at different stages of development and eight glass jars packed with nearly 1lb of cannabis buds.
Livingston Sheriff Court was told that the Class B drugs were valued at £5000, with the growing equipment worth £2000.
Ian Smith, defending, said McGinty had grown and harvested the plants for his own use and there was no indication he was dealing in cannabis.
"It was thought at the time that he may have been suffering from post traumatic stress disorder as a result of the three years he spent in the parachute regiment," he said.
"He was in the army for three years and had an exemplary record. He was honourably discharged after seeing something distasteful, which may explain why he would seek solace in cannabis."
But Sheriff Douglas Kinloch, sentencing McGinty to eight months in jail, said he had created a "set-up of some sophistication" for producing drugs.
He said: "In a number of cases in the High Court it's been said that the cultivation of cannabis is much more serious than possession of the drug, even if cultivation is for the use only of the person growing it.
"You must have been doing this for some time and this is too serious to be dealt with by an alternative to custody."