'Good luck because you will need it': Threatening messages left for murderer's ex-girlfriend
Frank Moore left a string of threatening messages for his ex-girlfriend Lynsey Methven in the run up to the murder of her new boyfriend.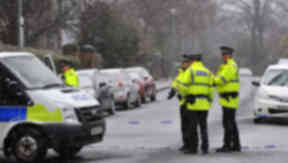 A man who murdered his ex-girlfriend's new lover left a series of threatening voicemail messages in the run up to the fatal fire.
At the High Court on Thursday, Frank Moore was found guilty of the murder of Stewart Taylor and the attempted murder of Lynsey Methven. Moore had beaten the pair up before locking them inside Methven's burning flat.
In the run up to the crime, Moore left a string of abusive messages for his ex-girlfriend. Most of them demand that Ms Methven phone him back but many contain threatening messages.
On the evening of January 29, Moore left a voicemail saying: "Answer your phone - if you don't something's going to happen."
The following afternoon, another messages said: "Lynsey, if you don't ring me I will f***| about with you, okay?"
And on January 31, Moore said: "Good luck, make the most of it because you will need it."
Just a few days before the murder, Moore left messages threatening to visit Ms Methven at work.
He said: "Listen, Lynsey I'm f*|ing sick of this, right? You better phone me back and tell me what's happening with my stuff. If you don't I will come down to your f*|ing work and I'm no joking and I will embarrass you."
The worst of the abuse came on January 28 when Ms Methven received 16 answer phone messages from Moore. Eleven of the messages were left in the space of an hour with some just a minutes apart.
In one of them, Moore said: "I will go down to your ma's and I tell you I will bang your f***|ing door."
Later that evening, Moore went to Ms Methven's mother's house and tried to kick the front door in.
The next morning, another message was left appearing to apologise for his behaviour.
Moore said: "Lynsey I'm sorry for the s*|. I tell you what, you have caused it with your lies, all your f*|ing shit."
IN DETAIL