Cyclists and motorists stopped during safety week
Almost 250 bikes were stopped and spoken to about offences, along with 100 motorists.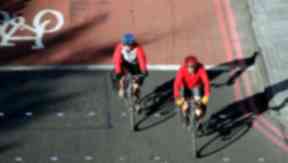 Almost 250 cyclists have been stopped and given advice on safe driving during a police campaign.
Lothian and Borders Police spent a week targeting cyclists and motorists in Edinburgh. The aim was to make sure both groups knew how to drive safely.
A total of 247 cyclists were stopped for going through red lights, cycling on pavements and not wearing a helmet.
Another 152 were given information at an information point in the Meadows.
Motorists were also targeted, with 100 stopped and spoken to about inappropriate driving. Six drivers received fixed penalty notice or were reported to the Procurator Fiscal. Three cars were seized.
Sergeant Quentin Russell said: "The purpose of this initiative was to enhance the standards of cycling and motoring on Edinburgh's roads as well as improve relations between motorists and cyclists.
"The week of education was also about protecting your bike from thieves and the bike marking service, which was offered across various areas in the city last week was well utilised.
"The actions taken by Lothian and Borders Police and their partners last week have been praised on various social networking sites by members of the cycling community and we were delighted with the response to this campaign.
"Anyone wishing information on road safety or advice on protecting their bike or other possessions should contact their local policing team."