HIV couple 'bit officers after refusing to stop having sex in public pool'
Lucasz Rutkowski and Tanya Kalonga are charged with attacking police officers at a leisure centre in Edinburgh.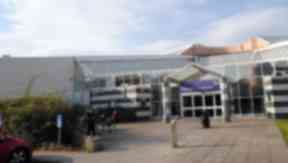 An HIV positive couple are alleged to have attacked police officers after refusing to stop having sex in a public swimming pool.
The couple allegedly spat at and bit officers after police ordered them out of the pool at the Ainslie Park Leisure Centre in Pilton, Edinburgh.
According to papers lodged at the city's sheriff court, Lucasz Rutkowski and Tanya Kalonga have been charged in relation to the August 9 incident.
The couple face claims they "engaged" in "sexual activity" and "appeared" to "have sexual intercourse within a public swimming pool".
Rutkowski and Kalonga are alleged to have repeatedly refused to leave the pool when asked to do so by police officers and struggled violently with them.
Rutkowski is charged with spitting at and biting Constable Craig Reid of Lothian and Borders police to his injury, while knowing he was HIV positive.
The 23-year-old is also said to have attacked another constable Derek Neish.
A charge claims he "did lash out with your arms and legs, struggle violently on the ground whilst you were bleeding, and said Derek Neish was bleeding, knowing you were HIV positive".
Rutkowski is also charged with striking his head against, and spitting all over, the cage of a police van.
He is also alleged to have called Constable Andrew Kendall a "Scottish p**|*" and a "racist p**|*".
Kalonga is accused of attempting to rescue Rutkowski by trying to pull Constable Reid away from him.
She is also said to have injured Constable Reid by scratching his arms and spitting at him, while knowing she was HIV positive.
The 21-year-old is also accused of spitting at another officer Christine Gray and a man called John Kenny with the knowledge she had the disease.
Both Rutkowski and Kalonga are also accused of threatening to shoot Mr Kenny and his family during the alleged incident.
The case is due to call for a first diet at Edinburgh Sheriff Court on November 8 and a trial has been set for November 21.