Explorer David Livingstone's diary unveiled for the first time
Pages from the Scots' journal have been restored by scientists to reveal what he actually wrote.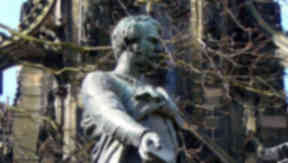 Pages from explorer David Livingstone's diary can be read for the first time after modern technology helped recover the words.
The diary includes an account of the massacre of 400 slaves which was later told to a journalist and helped abolish slave trade.
Livingstone wrote the journal on the paper he had, a copy of the London Standard, in ink made from berry seeds. In the African heat the manuscript deteriorated and is now almost invisible to the naked eye.
Scientists used spectral light to pick out the faded ink and a computer to enhance the words enough to be read. It took them 18 months to reveal the diary of the Scots explorer, which were being held at the David Livingstone Centre in Blantyre.
The 1871 Field Diary shows Livingstone changed his account of the massacre when telling journalists about it.
It shows he was gazing with "wonder" as slavers entered the market in Congo with guns and started firing at the crowds.
The scholar who led the project to restore the manuscript said there is evidence in his diary that members of Livingstone's party were involved in the killing.
Dr Adrian Wisnicki said: "Livingstone seems to have considered this possibility and this, together with his failure to intervene, appears to have left him with a profound sense of remorse.
"In copying over the 1871 diary into his journal, Livingstone decided to rewrite or remove a series of problematic passages. It's taken 140 years to discover Livingstone's original words and reveal the many secrets of the original diary.
"Livingstone would never have published this private diary in his own lifetime. In particular his attitude to the liberated slaves in his entourage is one of disgust - an attitude greatly at odds with his public persona as a dedicated abolitionist."