Olympic organisers 'disappointed' by public reaction to rings on Edinburgh castle
The committee said it was 'short-sighted' to dismiss plans to place 26ft Olympic rings on the ramparts of the castle.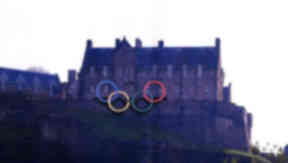 The London 2012 Olympic Committee is "disappointed" about the negative reaction to their proposal to erect the games' symbol on Edinburgh Castle ramparts.
They submitted a planning application to the City of Edinburgh Council last week to put up the iconic Olympic rings on the eastern ramparts of the historic attraction for nine months next year.
At 26ft high and almost 60ft wide, the structure will be clearly visible in most of north Edinburgh. They will be later swapped for the paralympic symbol.
On Wednesday, the plans were criticised by many residents and visitors who think the structure would be "absolutely ridiculous" and "silly".
One resident said: "I don't like the look of that on the castle. The castle is lovely the way it is. I can't say I'm too pleased about that."
The director of the Cockburn Association, who work to promote the conservation of the city, said the rings were "a bit tacky".
Marion Williams said: "The question is, is there going to be similar rings on Windsor Castle?"
The Department of Culture, Media and Sport at Westminster said the reaction to the plans was "short-sighted".
A spokesperson said: "It is short-sighted and disappointing that some people cannot recognise the benefits of having the Olympic rings in Edinburgh.
"Edinburgh Castle is a spectacular, iconic building, and will provide a fantastic backdrop for the rings – not to mention provide a focal point for Games-related activities.
"London 2012 is for the whole of the UK and we know that Scotland will be right behind the likes of Sir Chris Hoy next summer, just like the whole of Britain."
Historic Scotland, who own the castle, have signed the application form giving their approval.
But on Wednesday they said they a separate application for listed building consent was still being considered.
A spokeswoman for Historic Scotland said: "We have received a Scheduled Monument Consent for a temporary application for the Olympic Rings installation at Edinburgh Castle which is going through the due process."