'Cheers, Edinburgh, it's been fun': Series of mystery book sculptures comes to an end
The book sculptures have been popping up around the capital since March but the anonymous artist has said the latest is the final one.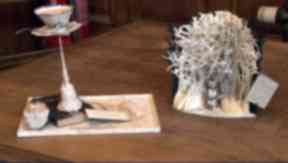 A series of anonymous sculptures made from books and left around Edinburgh have come to an end.
On Wednesday, the Scottish Poetry Library found the tenth and last of the intricate artworks along with a note saying "cheers Edinburgh, it's been fun".
The mystery started in March when the first of the paper sculptures were found at the Poetry Library. It was a tree made from paper and mounted on top of a book.
In June, two more appeared around the capital. The first was left at the National Library of Scotland, a gramophone and coffin made from a copy of Ian Rankin's Exit Music. The second was characters bursting out of a cinema screen, left at the Filmhouse.
In July, the Scottish Storytelling Centre received one. This time, a dragon sitting inside a cracked egg was left in a window.
Two were left at the Edinburgh International Book Festival in August, the first for the organisers was a cup of tea and a cupcake. The second, addressed to the City of Literature, was a person sat underneath a tree bursting out of the book.
In the same month, a magnifying glass on top of a book was left at the Central Lending Library.
On Wednesday, staff at the Poetry Library found what claimed to be the last of ten sculptures. Two separate pieces showed a hat and gloves made of feathers.
An accompanying note read: "'You need to know when to end a story,' she thought. Often a good story ends where it begins. This would mean a return to the Poetry Library. The very place where she had left the first of the ten.
"So, here, she will end this story, in a special place … A Poetry Library ….. where they are well used to 'anon.' Cheers Edinburgh It's been fun!"
The sculpture said it was the last of ten, but only eight had been found.
On Friday, both the National Museum of Scotland and the Writer's Museum announced they had received sculptures in the last week.
A dinosaur bursting out of a copy of Arthur Conan Doyle's Lost World was left at the museum, and a street scene with a full moon above was left at the Writer's Museum.
Councillor Deidre Brock said: "Whoever is responsible for these wonderful works of art has created an intriguing modern day mystery for Edinburgh, the world's first UNESCO City of Literature."