Mother stole £50,000 from employers to fund husband's gambling debts
Lorna Brand carried out the same scam on two separate companies over two and a half years.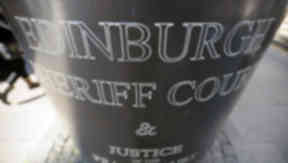 A mother stole more than £50,000 from two companies to help pay her husband's gambling debts.
Lorna Brand, 54, operated a two and a half year scam in which she pocketed £53,167 from two different employers, Edinburgh Sheriff Court heard on Tuesday.
The mother of four was left in charge of the firms' finances and wrote herself a number of cheques which prosecutors think were used to pay off thousands of pounds worth of debt.
The court heard how Brand was forced to act illegally because her estranged husband frittered his wages away on gambling.
Brand, of West Calder, West Lothian, pleaded guilty to two charges of embezzlement before Sheriff James Scott who warned her that he is considering imposing jail time.
Brand also faced charges of falsely claiming to hold a master's degree in finance from Heriot Watt University in Edinburgh and stealing stationary from her employers. However, the procurator fiscal agreed to drop these charges in return for her guilty pleas to the embezzlement allegations.
Depute fiscal Ann MacNeill told the court Brand started conning bosses at GWC (UK) Ltd in West Calder, West Lothian in November 2007.
She managed to get her hands on a total of £25,734 of the firm's funds before being caught in November 2008.
Ms MacNeill said: "She was put in charge of financial matters which included writing cheques, payment to staff and dealing with customers. In 2008 the Managing Director of the company received a phone call from the company's bank querying the details of a cheque.
"The cheque was addressed to Lorna Brand and had been placed in a joint bank account which she held with her husband. Her husband had no knowledge of the matter."
In May 2009, Brand managed to find herself a new job with Jefcoate Anderson Architects in Penicuik, Midlothian, in which she continued scamming her employers.
She was placed in a position of trust in which she dealt with the company's finances and used the same con on her new bosses.
Brand was caught out after her superiors found that a cheque that was meant to be sent to HMRC was actually sent to her own account.
Ms MacNeill added: "In April 2010, Brand's employers were informed that a cheque had been made payable to Lorna Brand. Again an investigation followed and it was concluded that a number of cheques had been written by the accused for her own benefit."
Brand was arrested shortly afterwards by specialist anti fraud officers from Lothian and Borders Police. Ms MacNeill also said that only £5000 had been repaid to GWC.
Defence solicitor Mark Harrower told the court that Brand had run into financial problems with her now estranged husband.
He said: "They had ran into serious financial problems. They had approximately £12,000 of debt. His work took him away from home. He had a significant gambling problem which took up most of his wages. She accepts her guilt in the matter."
Sheriff Hall deferred sentence until January 2012 in order for the court to obtain reports.