Rare 500-year-old plate expected to sell for £100,000
The ceramic dish dates from 1537 and was discovered in a house valuation.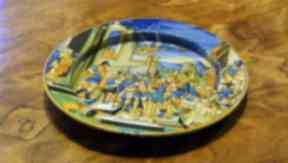 A rare 500-year-old plate is expected to fetch £100,000 when it goes under the hammer next week.
The plate from Maiolica artist Francesco Xanto Avelli dates from 1537 and was discovered in a house valuation. It is thought the owner's family bought it in Italy sometime between 1894 and 1916.
Xanto Avelli was an Italian artist who worked in Mailoica, an earthenware made on a wheel. It is then covered with a coat of tin glaze and painted.
The front of the plate has a scene from the Life of Cyrus and shows Cyrus persuading the people of Persepolis to rise up against their rulers.
Celia Curnow, ceramics consultant to Lyon & Turnbull said the plate was very rare and still in good condition.
She said "I have waited more than thirty years to see a piece of this quality outside a museum.
"In his 2007 exhibition held at London's Wallace Collection devoted to Xanto, curator John Mallett, former Keeper of the Victoria & Albert Museum in London described Xanto as Pottery-Painter, Poet, Man of the Italian Renaissance.
"It is incredible that the colours on the plate are as vibrant today as when the plate was first seen in 1537 - the reverse of the plate is as revealing as the front as it is fully inscribed by the artist and carries labels inscribed by previous owners of the plate over the years."
The plate will be sold at auction at Lyon & Turnbull in Edinburgh next Wednesday.