Who's liable?: MoD refuse to take responsibility for Dalgety Bay radiation
Defence Minister Andrew Robathan told Sepa they would have to carry out further investigations before anyone takes the blame.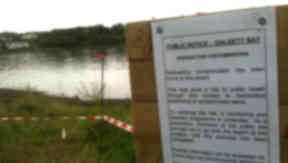 The Ministry of Defence have said further investigations are needed at a Fife beach where radioactive particles were found before anyone takes responsibility.
Defence Minister Andrew Robathan visited Fife to hand over a draft plan for further action to the Scottish Environment Protection Agency and to see the contaminated area for himself.
It comes after "significant" sources of radiation were discovered at Dalgety Bay.
The contamination is thought to come from residue of radium-coated instrument panels used on military aircraft which were incinerated and land-filled in the area at the end of the Second World War.
The area faces the threat of being designated Radioactive Contaminated Land for public protection.
During a short visit to nearby Rosyth, Mr Robathan said the Ministry of Defence does not deny liability and questioned whether a clear-up of the site is needed.
He said: "There was of course a Royal Naval air station here. It closed 53 years ago. Who knows who's liable. We're not denying liability but I think we need to be quite clear how this contamination has come about.
"For instance, there has been industrial sites. I understand there has been a ship-breaking yard just down the way. There's been earth movement which of course has of course disturbed a great deal of stuff. There's been housing estates built.
"We don't say that we are not in any way willing to help. We are willing to help. But I don't think you would expect us to accept liability before we know exactly what the situation is.
"We are therefore looking at this and we are willing to co-operate with the environment protection agency and others to find exactly what the situation is and then we can determine who is responsible for clearing it up, if there is a need to clear it up."
Mr Robathan earlier gave an update in a prepared statement.
He said: "I fully understand the concerns which people here have expressed at the discovery of radioactive particles in Dalgety Bay. My visit has afforded me the opportunity to walk the beach here and see for myself where these particles have been found."
He said efforts have been increased over the last few months, since recent discoveries. The department is undertaking a three-year programme of monitoring and removal of particles from the beach.
He added: "In addition to which, the MoD is currently working with Sepa to develop a credible investigation plan. A decision on future plans, agreed by all parties, is expected in the next few weeks."
He said the ministry has spent about £750,000 on associated problems.
Mr Robathan later raised his concern for the future of the beach, adding: "I can well understand the concerns of local people. My own view is that it would be a great pity if the area, if part of the beach, was to be declared a radioactive, contaminated zone. My advice is that this would be premature, and that is why we want to continue with the investigation as swiftly as possible."
Radioactive material was first detected on the foreshore of Dalgety Bay in 1990. In October last year a lump of contaminated metal was found on the beach, prompting the closure of part of the foreshore.