Businessman accused of assassinating brother cleared of conspiracy
Toby Siddique died when he was shot at a flat in Glenrothes, Fife in 2010.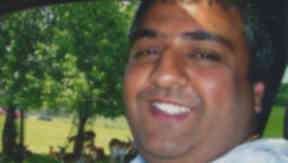 A businessman accused of ordering the assassination of his brother has been cleared of conspiring to murder him.
Mo Siddique, 42, along with Bulgarians Tencho Andonov, 28, and Deyan Nikolov, 27, had denied plotting the shooting at a flat in Glenrothes, Fife.
It was alleged that they had discussed "practical arrangements" for the hit, offered Andonov cash for pulling the trigger and had planned to lure victim Toby Siddique, 38, into a trap with contraband cigarettes and vodka.
The long-running trial, which began last October, has heard how Toby Siddique was shot in the home of former security man David Dalgleish, 44, on the night of October 24, 2010.
At the end of the Crown case on Wednesday, advocate depute John Scullion told the jury he was withdrawing the conspiracy charge along with a charge of attempting to defeat the ends of justice.
Mo Siddique, Andonov and Nikolov still face charges of murdering Toby Siddique and attempting to murder Mr Dalgleish.
Judge Lord Kinclaven begun hearing legal arguments on Wednesday and jurors have been sent home until Friday. They will then hear the defence case.
The trial has heard the brothers fell out over the future of Moncrieff Properties, a company they shared which rented out flats in Glenrothes and Kirkcaldy.
The trial continues.