Ryanair to cut routes from Edinburgh Airport with threat of 300 job losses
Flights to Berlin, Malmo, Murcia, Ibiza and Tallinn will stop from April as the budget airline axes routes.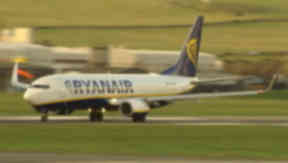 Budget airline Ryanair has announced plans to axe five routes from Scotland's busiest airport.
The airline said the cuts at Edinburgh Airport are expected to lead to 300 job losses and passenger traffic dropping by 15%, from 1.8 million to 1.5 million. But BAA said they were not expecting any job losses and "did not understand" where Ryanair got that figure from.
Ryanair said on Tuesday it would reduce its operating aircraft at the hub from seven to six.
The move means the end of flights to and from Berlin in Germany, Malmo in Sweden, Murcia and Ibiza in Spain, and Tallinn in Estonia.
Just one of the routes is currently operating from the airport. Flights to Malmo, Murcia and Ibiza have yet to launch and planes to Tallinn have not left the airport since November last year.
Closure will begin in April and will be in full effect for the airline's summer schedule.
The number of flights Ryanair operates from the airport each week will drop by a fifth (21%), from 140 to 110.
The company blamed a "breakdown of negotiations" about costs with airport operator BAA.
Ryanair warned that further cuts could be on the horizon if BAA Edinburgh does not extend its five-year competitive cost agreement, due to expire in October.
The Dublin-based company currently runs 40 routes from the airport.
Chief executive Michael O'Leary blamed BAA for the cuts, saying they have "other choices".
He said: "Ryanair regrets BAA Edinburgh Airport's rejection of our proposals for a competitive cost base which would allow Ryanair to further grow our traffic and routes for summer 2012. Sadly BAA Edinburgh seems to prefer higher costs, even if it means fewer passengers and jobs at Edinburgh.
"While Ryanair remains committed to Edinburgh Airport, BAA Edinburgh cannot continue to ignore the competitive marketplace, where airports all over the UK and Europe have been reducing costs and lowering charges in return for traffic growth.
"We hope even at this late stage that BAA Edinburgh will realise that the way to grow traffic and jobs is by working with Ryanair to lower passengers fares, not raise them."
The airport said they had tried their best to keep the airline but could not come to an agreement.
Jim O'Sullivan, managing director of Edinburgh Airport, said: "Of course we are disappointed that Ryanair has reduced its services from Edinburgh.
"We have tried extremely hard to negotiate with Ryanair but sadly on many issues have not been able to find common ground. For example, we cannot accept their wish to not pay the agreed air traffic control costs that all other airlines pay. As ever, our focus remains on providing managed, sustained and high-value growth, matching the aspirations of our city."
Colin Kerr, SNP MSP for Edinburgh Western, whose constituency covers Edinburgh Airport, said: "The future for Edinburgh Airport should be expansion not retraction. Ryanair should be working with the airport to ensure jobs and growth are at the heart of any proposals.
"This is a hammer blow to Edinburgh and I am urging Ryanair to reconsider. It is an extremely disappointing announcement at a time when companies should be encouraging development in the aviation industry."
After the cuts the airline will still be one of the largest operating out of the airport with 1.5 million passengers flying on 35 routes every year.
Operators BAA are trying to sell the airport after the competition commission ordered them to sell one of their Scottish bases.
Last June the airline halted 20 out of 100 flights a week from Edinburgh.